Meet the man behind the designs - architect Richard Nilsson of Figura. We had the chance to chat with him recently, and captured some insights into the process behind the design of the new Spirit of Tasmania.
Let's start with a short bio on you, can you tell us a bit about yourself and what projects you have worked on?
Architect, born 1955. Studied architecture at University of Technology 1975-1980. Worked in the business since 1980 as an assistant teacher at architect school, and an architect and owner since 1986 designing buildings and interior design of commercial areas on land and on sea.
Have you always wanted to be a designer?
Yes. Had an older cousin that was an architect and he was my idol when I grew up.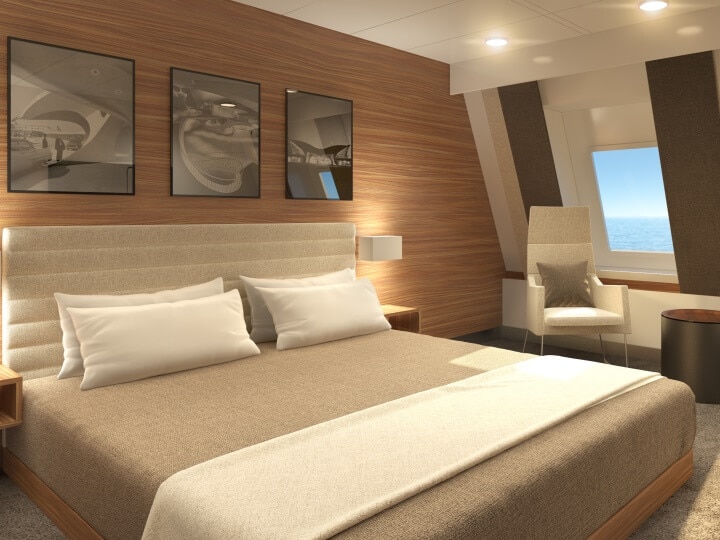 Deluxe Cabin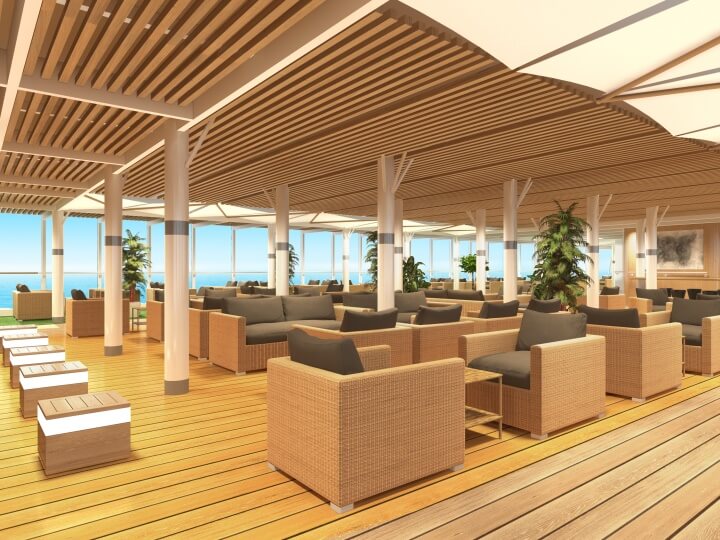 Top Deck Bar and Lounge
What was your very first project?
My first real project was a new small addition to my parent's house executed during my first year in architect school.
How does the design process start – describe the process and the steps to completely refurbishing the ships?
To collect data and input from the client. The most important aspect of all design work in both houses and interiors is to establish a logistically sound layout that is commercially viable and works for the purpose and exceeds the clients expectations. Then try to find a story/design that fulfills the clients wishes and expand that to give the client more than they expected.
How many people are in your team?
At the moment we are nine people in the office plus a 3D modeler outside the office.
Where did you draw your inspiration from for the new design of Spirit of Tasmania I and II?
Different areas have different input. We always try to make contemporary designs that are long lasting and not short lived and trendy.
TMK (Tasmanian Market kitchen) is a contemporary version of a market kitchen.
The Bar is a more downtown bar style design.
Deck 9 & 10 was the idea of designing "indoor" areas with an outdoor look and feel.
Deck 9 is more of a summer terrace bar and Deck 10 has a beach club lounge feeling.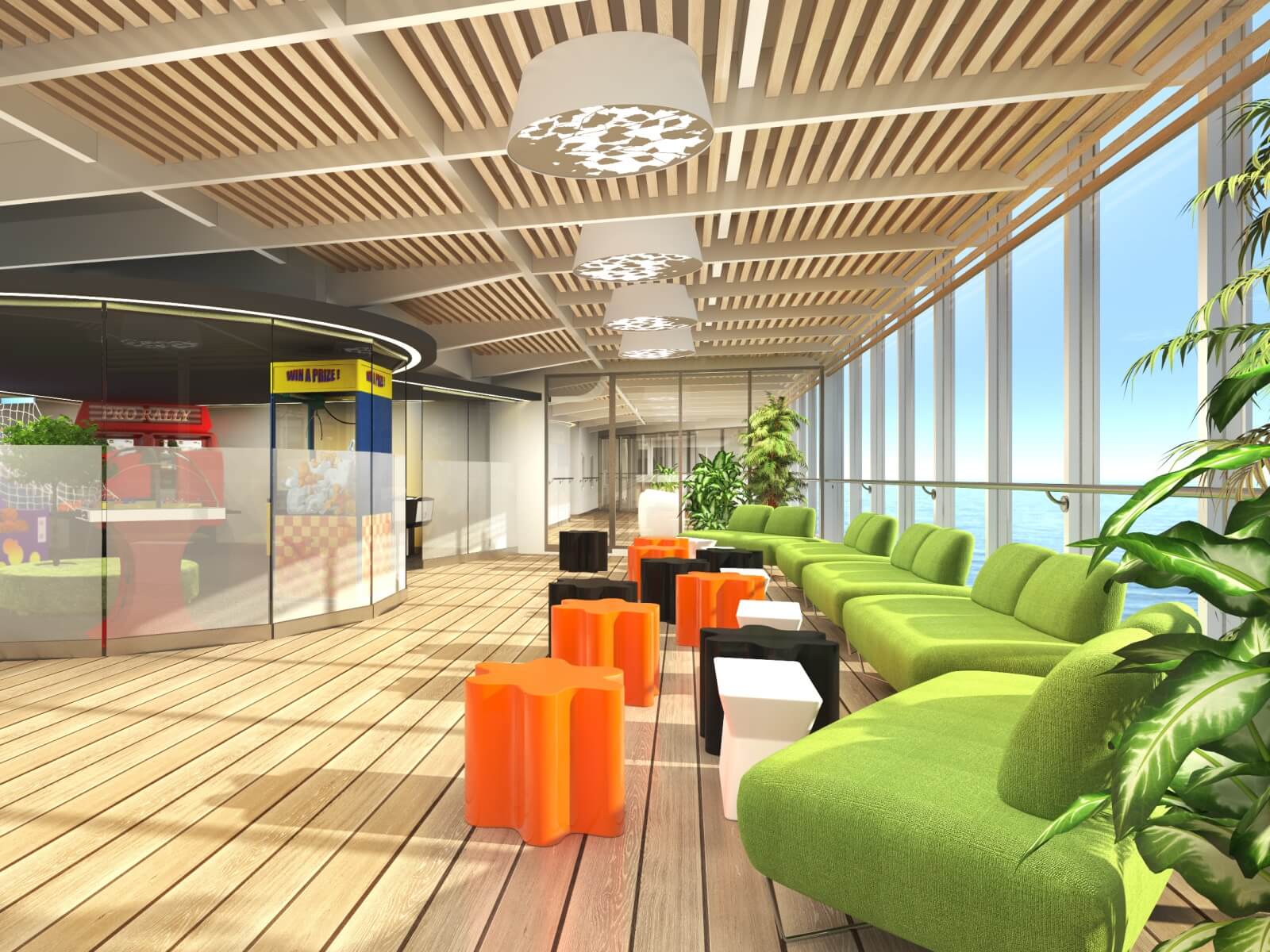 Deck 9
Can you talk us through the new design and themes selected of Spirit of Tasmania I and II, deck by deck?
Deck 9 & 10 was the idea to design the "indoor" areas with an outdoor look and feel.
Deck 10 was designed to have a beach club lounge feeling, with timber lattice ceiling like a veranda and sail cloth ceiling. Lounge furniture in rattan, teak deck chairs like classic cruise etc. creates an image of a relaxed outdoor character.
Deck 9  was designed to have more of a summer terrace bar feel with bright summery colours, light timber, outdoor veranda/terrace floor lights.
A sailcloth ceiling resembling that of a parasol/awnings as if you were on a terrace. 
Teen area was designed with a comfortable lounge feeling with open view into the gaming arcade.
Deck 8 (Recliner area) is designed to have a comfortable lounge with a relaxed feel.
On Deck 7, TMK (Tasmanian Market Kitchen) is a contemporary version of a market kitchen with accompanying materials, "rustic" timber and copper.
The Bar is a more downtown bar design, divided into two characters with the play of light and dark timber combination.
Describe the new kids and family entertainment? Can you describe in detail what games are in the teen zone area on Deck 9?
We have created an open accessible and attractive gaming area with a designated teen lounge outside and also a more outdoor lounge forward of the gaming area.
The lounge areas have comfortable settings and have vending machines as well as being close to the bar area.
Where is the furniture from and can you describe why you selected the type of furniture that you have?
The furniture is mainly from Europe and from manufacturers that we know is of good quality and that we have good experience from.
Deck 7: Chairs are mainly from Spain designed by Spanish and Swedish designers.
Deck 9: Spanish chairs, Swedish designers.
Deck 10: Danish chairs.
Tell us about how you've modernised the Deluxe Cabins, what changes were made? Tell me about the finishes you've selected?
The main design concept for the Deluxe Cabins is to create a hotel character, light and comfortable within space of the existing cabin. The existing cabin was stripped out except for the wet unit (ensuite). New finishes and furniture was designed. The wet unit got a facelift with better lighting, mirror, wash unit etc.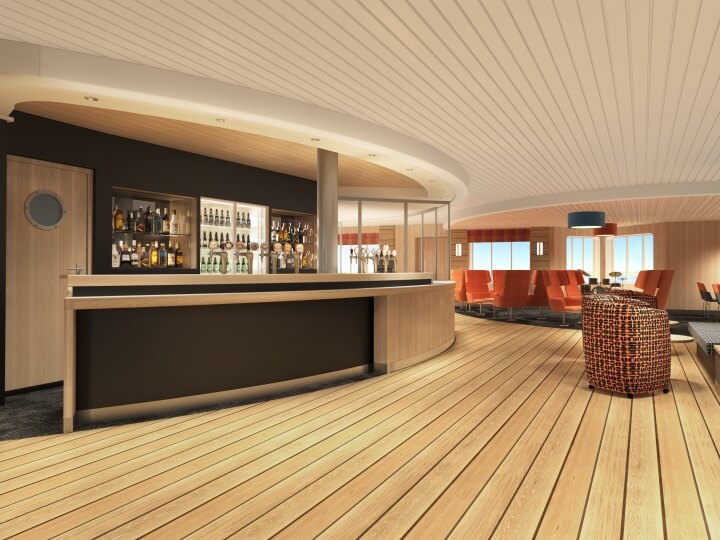 Bar Seven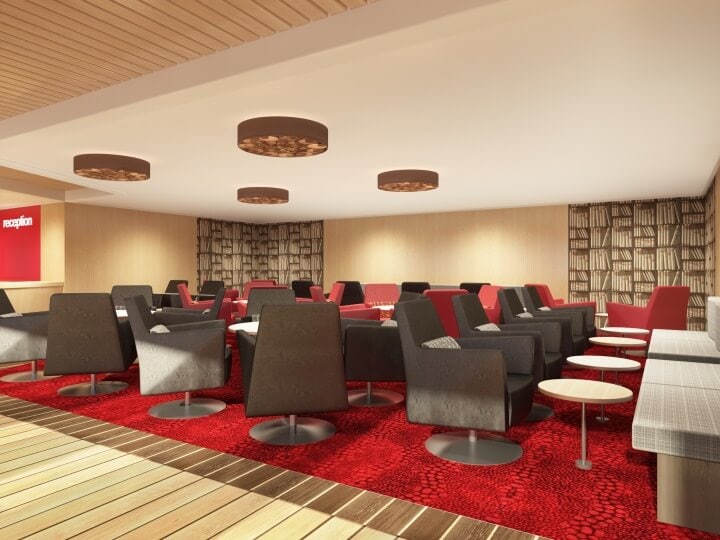 The Reading Room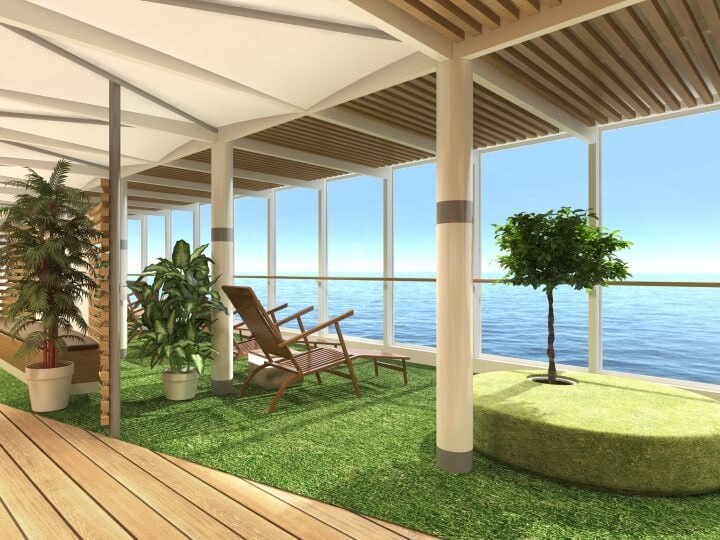 Deck 10 Lounge Area
How are you expecting customers to react to the changes? What would you like them to feel?
I hope that the customers will appreciate a more contemporary and comfortable interior. A more open and generous design where different passenger needs will be met.
I hope that the passengers will want to explore the whole ship with its different concepts and commercial avenues and that they will appreciate the comfort and designs so much that they will come back.
In one sentence, how would you describe the new overall design of the ships?
Fresh, contemporary and comfortable.