Launceston Travel Guide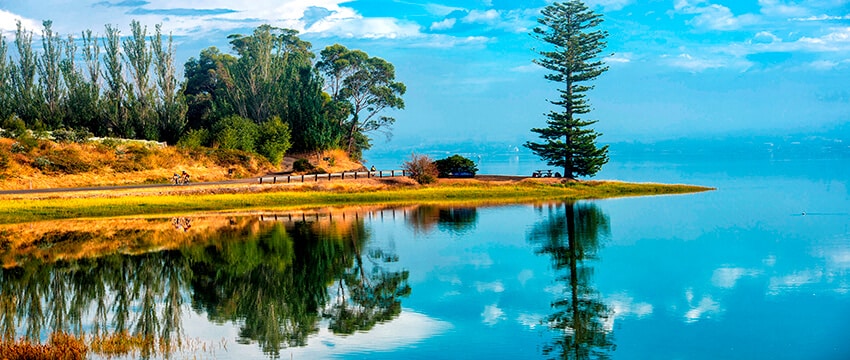 Launceston & Northern Tasmania
Overview
A dazzling mosaic of beaches, historic hamlets and lush vineyards, North Tasmania provides the perfect holiday escape for all kinds of travellers. Trek through thick rainforest, visit one of Tamar Valley's many wineries or revel in the laidback sophistication of Launceston. With Spirit of Tasmania arriving daily into Devonport from the mainland, this is often the first region of Tasmania visitors explore.
Launceston
The second largest city in Tasmania, Launceston is a charming hub of activity. Visitors can immerse themselves in the city's rich cultural history as they enjoy the beautiful natural surroundings, delightful gourmet restaurants and trendy boutiques. Situated at the head of the scenic Tamar Valley, Launceston is a convenient stone's throw from wilderness adventures and of course Australia's finest cool climate wine trails.
Cataract Gorge
The Gorge is one of the city's most popular attractions, offering a glimpse of Tasmania's amazing wilderness right in the heart of the city. The King's Bridge-Cataract Walk, originally built in the 1890s, provides spectacular views of this lower section of the South Esk River. You can also enjoy the world's longest single span chairlift, as well as the funicular railway and Victorian gardens, all within a bushland setting. And there's no better way to experience the breathtaking scenery than on a river cruise—float by majestic black swans, pelicans, wild ducks and even sea eagles.
Queen Victoria Museum & Art Gallery
Australia's largest regional museum, QVMAG is well and truly Launceston's arts, cultural and creative heartbeat. It is renowned national for its collections of Aboriginal and colonial art and contemporary Tasmanian design and natural science. The QVMAG is located on two sites: the 1870s era railway workshop at Inveresk; and the 1891 Royal Park Art Gallery building on Wellington Street.
Boag's Brewery
Beer lovers, listen up. A short walk from Launceston's CBD, J Boag & Son Brewery runs tours that provide a comprehensive insight into all stages of the brewing and packaging process. Then the real treat: the tastings! Sample James Boag's award-winning brew together with some of Tasmania's finest cheeses. Needless to say, this one's a crowd favourite—bookings essential.
Tasmania Zoo
Set amongst extensive natural bushland, the state's only fully accredited zoo lies 18 km outside of Launceston. It is known for having the world's largest private Tasmanian devil breeding program. Here is your best chance to come face to face with these tetchy little creatures—although we don't recommend you go too close! You can also feed a range of native Aussie animals, including wallabies, wombats and kangaroos—making a trip here the ideal family day out. Tours to the zoo depart twice daily from major hotels. (Photo: Tourism Tasmania & Dan Fellow)
Shopping & markets
If you like to read, you will be thrilled with the selection of books at Birchalls. You can stock up on fiction for the whole family here. Nonfiction categories include cookbooks and memoirs. This shop has been open since 1844, and is often referred to as the country's oldest bookshop. You will find antique clocks and watches for sale at Clockwise. The indoor Launceston Esk Market with more than 150 stalls is held on Sundays. You can buy antiques, crafts, furniture and fresh produce here.
Food & drink
If you are in the Launceston area for its hiking trails, be sure to visit Fresh on Charles for breakfast. Specialising in mouthwatering organic, vegetarian dishes, Fresh on Charles offers a spectacular breakfast, as well as lunch and dinner. (178 Charles St, Launceston). For lunch or dinner, try Me Wah for out of this world dumplings and noodles. Don't miss their homemade noodles with regional Abalone a jus. (39-41 Invermay Road, Launceston).
Accommodation
There is a wide range of accommodation in and around Launceston, from backpackers, budget hotels and serviced apartments to 5-star riverfront accommodations. Plan your trip and book your accommodation in advance to enjoy the best rate.
Getting there
Devonport to Launceston is just a one-and-a-half hour drive through beautiful countryside. An alternative route into Launceston is via a relaxing and scenic cruise down the Tamar River. There are regular bus services to Launceston from other places in Tasmania.
Blog: Launceston & North Tasmania
A fresh discovery awaits around every corner of Launceston and Tasmania's North. Whether you're a foodie, an adventurer or a sports lover, Launceston and the North is the ideal region for a Tasmanian driving holiday.
Read more