Freycinet National Park Travel Guide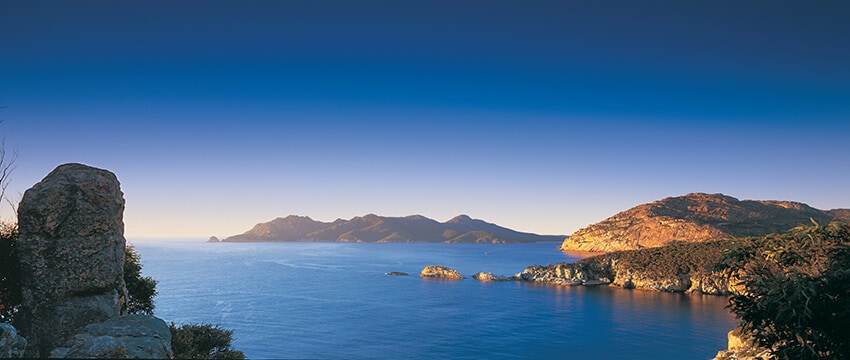 The East Coast
Overview
The east coast of Tasmania is essentially a microcosm of Australia—offering gorgeous white sandy beaches, beautiful sunny weather, freshly caught seafood dishes and locally grown fine wines. If you're looking for a relaxing Tassie getaway, far from the hustle and bustle of things, then this is your spot. Bring the rods, camping gear and binoculars—for there is a wealth of sea and birdlife here you simply won't want to miss!
Freycinet National Park
A trip to Tasmania would not be complete without a visit to the renowned Freycinet National Park. Located in the east of the island, the mammoth park is home to a substantial variety of natural wonders, including white sandy beaches, pink granite mountain peaks and hidden bays to shelter the abundant birdlife.
Trekking, biking & more
Freycinet National Park is a haven for outdoor enthusiasts, offering many trails suitable for all skill levels. Overnight hikes are also permissible, and employees at the park office can offer great advice on the locations of water stations, trail conditions and where best to catch your breath, have a picnic and enjoy a priceless view. Countless sheer granite cliffs are ideal for rock climbing, or if you're seeking more fast-paced action, the mountains also boast lots of biking trails.
Bays & beaches
It's not all about the hiking and biking—the coastlines here are nothing short of spectacular! Secluded bays emerge unexpectedly and present perfect opportunities for various water activities. Voted one of the 10 best beaches in the world, the picture-perfect Wineglass Bay simply has to be seen to be believed. It's a curved stretch of shimmering, turquoise water and pearly white sand flanked by mountainous terrain. In addition to the celebrated fishing at Great Oyster Bay—one of the best in-shore fisheries in all of Australia—visitors can participate in exhilarating water sports. When the conditions are right, take a kayak out on the open water and bask in the sunshine and cool ocean breeze. The beaches are ideal also for surfing and windsurfing, or simply for lying back, getting some sun and taking a cool dip among the waves.
Accommodation
Visitors are presented with a whole heap of options ranging from rustic camping and cottage rentals to luxury resorts and eco-retreats. At the entrance to the park, the village of Coles Bay is home to the most frequented accommodations and thus serves as a base camp for visitors who wish to spend a day or two exploring the vast parklands. The neighbouring coastal towns of Swanick, Swansea and Bicheno also offer visitors a number of places to stay.
Getting there
Freycinet is located about two and a half hours by car from both Hobart and Launceston via the A3 Tasman Highway. Coaches also regularly depart for the park from all regions of the state.