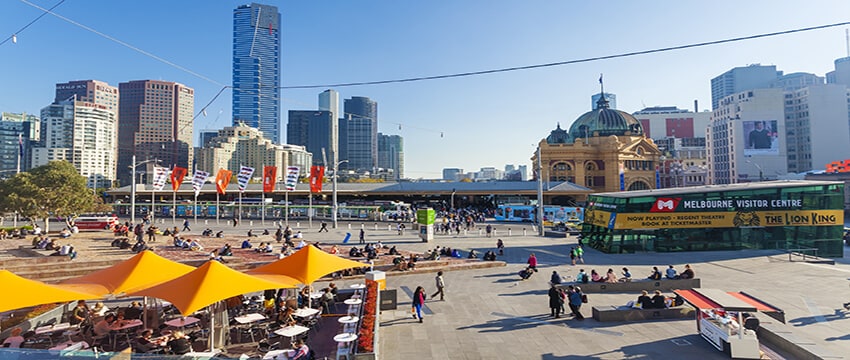 Food in Melbourne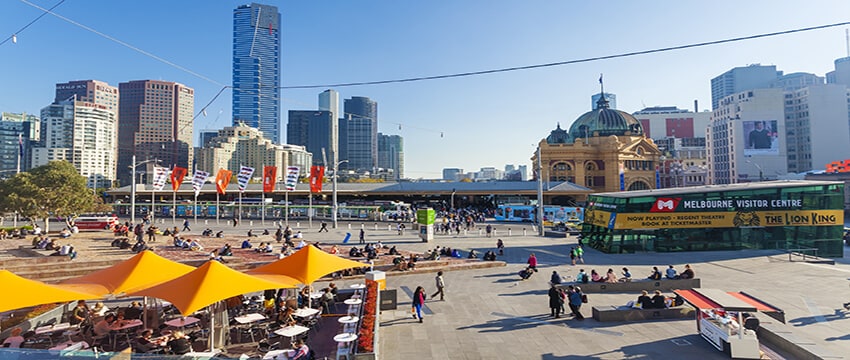 Melbourne
Overview
Stylish and cosmopolitan, Melbourne is rightfully regarded as Australia's cultural capital. Its cityscape is a blend of old and new, comprising elegant Victorian architecture and an array of modern skyscrapers—and with ever-present trams rattling through the streets it's easy to see why Melbourne is called the country's most European city. The best way to discover Melbourne—like with any great city—is on foot. The grid-like layout of the CBD is easy enough to navigate, but trust us: you'll want to get lost here. Between the broad thoroughfares you'll find an inner world of side streets and alleyways, all lined with edgy graffiti, chic bars and lively cafes. Coffee in this town is much more than just a caffeine hit—it's a way of life for Melburnians and you'll be hard-pressed to find a less than stellar cuppa. So hunker down and savour the experience. While you're in town, make sure you visit some of Melbourne's many fine art galleries, museums and theatres. Foodies and fashionistas are well catered for here too. And just an FYI: Melburnians live and breathe sport, particularly AFL, so if it's footy season, catching a game at the 'G' (MCG) is perhaps the most Melbourne thing you can do.
Food
Melbourne's food scene can best be described as eclectic. Thanks largely to its immigrant population, the city's collective menu reads like a gastronomist's journey across the globe. It is a veritable melting pot of flavours, drawing heavily on European and Asian influences. Many Melbourne restaurants are recognised internationally for their innovation and—most importantly—their exceptional cuisine.
Little Italy
Lygon Street to a Melburnian means only one thing: Italian. A leafy boulevard running through the inner-city suburb of Carlton, Lygon Street is home to a large concentration of Italian restaurants and is widely regarded as the birthplace of the city's well-known café culture. Restaurateurs here are very proud of their heritage, a pride that is evident in the quality of their cuisine. Each year, Lygon Street plays host to the Carlton Italian Festa, an outdoor showcase of all the very best Italy has to offer.
Chinatown
Melbourne's Chinatown is one of the oldest in the Southern Hemisphere. Centred on Little Bourke Street in the CBD between Swanston and Spring Streets, it is a bright, neon-lit enclave of restaurants, tea houses and Asian grocery stores. This part of town is also known for its impressive nightlife, featuring clandestine bars and nightclubs down narrow alleyways and up hidden flights of stairs.
Bars & nightlife
When the sun goes down (and let's face it, often well before), Melburnians like nothing more to head to their local watering hole for a cheeky bevvy or two. Each suburb of Melbourne has something unique to offer in the way of nightlife. In the CBD there are plenty of swanky bars, particularly along Flinders Lane and Little Collins Street. Just north of the city, Brunswick Street in Fitzroy is noted for its string of grungy, hipster-laden bars. If it's a fine evening, head to one of the riverside bars and enjoy a drink by the water—Southbank is a hive of evening activity with plenty of bars and eateries.
Cafes
Life's too short to drink bad coffee—and in no other city in Australia is this sentiment more palpable. The air in this town is redolent year round with the aroma of freshly ground beans. Baristas here boast an encyclopaedic knowledge of all things bean related, working like lab technicians behind their machines. And the results are invariably intoxicating. The CBD laneways are studded with haunts and hidden holes-in-the-wall, and further afield, in suburbs such as Richmond, South Melbourne and Prahran, you can discover trendy, laid-back café scenes you'll want to immerse yourself in for hours.